A WATERPROOF COATING APPLIED WITH BRUSH OR ROLLER
WHEN USING DAMDEX FOLLOW THE RECOMMENDED WAYS
Paint a waterproof coat on tiled, concrete or asbestos roofs. On floors and wall surfaces. On ceramic tiles, too.
PREPARATION
Thoroughly clean the surface to be coated from all dirt, dust, mildew and other foreign matter such as old paint or shrivelled bitumen, anything that may prevent the mixture penetrating deeply into cracks.
For best results always wet the surface with water. Never work on hot, dry surfaces.
Remove any cement lumps by riddling/filtering the cement powder before mixing.
COMPOSITION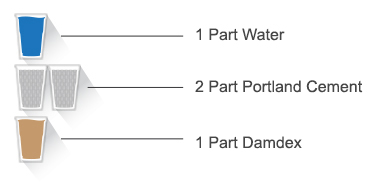 Add 2 parts Portland cement + 1 part water + 1 part DAMDEX
A mix of 2 kg cement powder + 1 liter water +1 liter DAMDEX will cover 4 m2, with a coating 0.5 mm thick.
HOW TO MIX
In a bucket make a mixture of cement and water.
When evenly mixed pour in DAMDEX and stir well again. Mixture is now ready to use.
HOW TO APPLY
First clean the surface and moisten with water. Use a brush or roller to coat the surface, first vertically then when dry, horizontally.
Can be applied as a waterproofing layer on a 'bare' concrete floor. After coating floor should be "cured" gradually for best results.
NOTE
For larger areas use DAMDEX WARNA
DAMDEX is used, with excellent results to protect buildings against weather
Mix DAMDEX with cement only or cement and water
To slow drying time add more water
For tile grouting use only coloured grouting cement
Extract all cement powder lumps before using. For best results use fresh cement
For optimal results on concrete roofs and to make them more waterproof the roof can be coated again with a protective layer of plaster.
For best results and to prevent cracking during drying 'cure' concrete and plaster slowly. Keep continuously moist by covering in sacks for seven days.
When applying thin coatings DAMDEX is best used on small areas, approximately ± 1 m2. For use on larger areas flexible DAMDEX WARNA is advised.
CAUTION
Avoid ingesting. If swallowed bring victim and DAMDEX container to specialist immediately.
Avoid contact with eyes. If eyes come in to contact, wash well with water and see a specialist (bring container).
Use gloves when handling DAMDEX.
Keep out of reach of children.
Store at room temperature.
Genuine DAMDEX is a dark brown color.